ITER relies on PolyWorks® to assemble its giant components with the utmost precision
A PolyWorks® Case Study
ITER relies on PolyWorks® to assemble its giant components with the utmost precision
ITER is one of the most ambitious energy projects in the world today. In southern France, 35 nations are collaborating to build the world's largest tokamak, a magnetic fusion device that has been designed to prove the feasibility of fusion as a large-scale and carbon-free source of energy based on the same principle that powers our Sun and stars.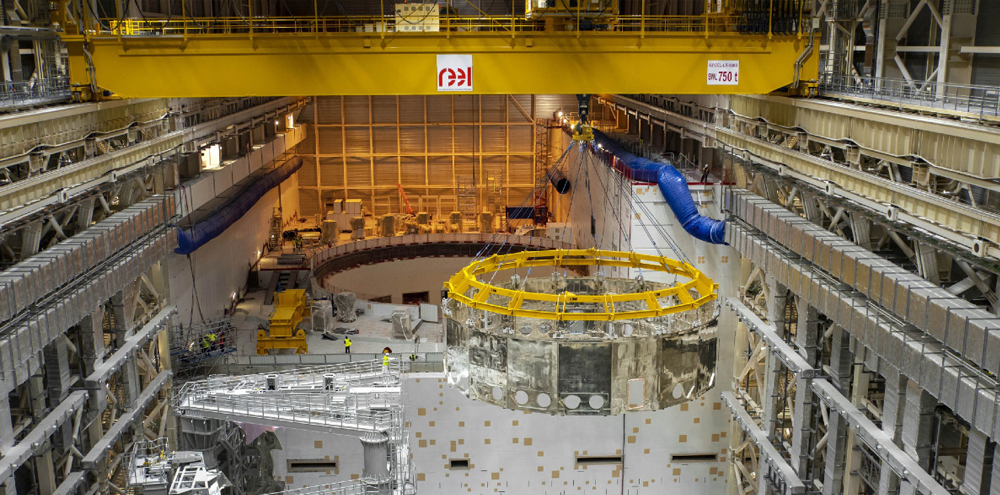 The Challenge

Assembly of the ITER reactor is underway. Tokamak components, sourced from hundreds of plants across three continents, are assembled at the site of the international program. The ITER Organisation is responsible for integrating and assembling the elements delivered to the site by the seven program members. However, assembling these elements is more than just a game of interlocking parts: the components are complex and numerous, and tolerances are extremely tight, to within millimeters.
The Solution
An analysis based on digital elements is required to ensure that the components will fit together perfectly. Data collection by metrologists is an essential preliminary step. Their objective is to provide reverse-engineering specialists with precise data after having measured each part to verify its compliance. In both of these phases – metrology and reverse engineering – the PolyWorks software is used.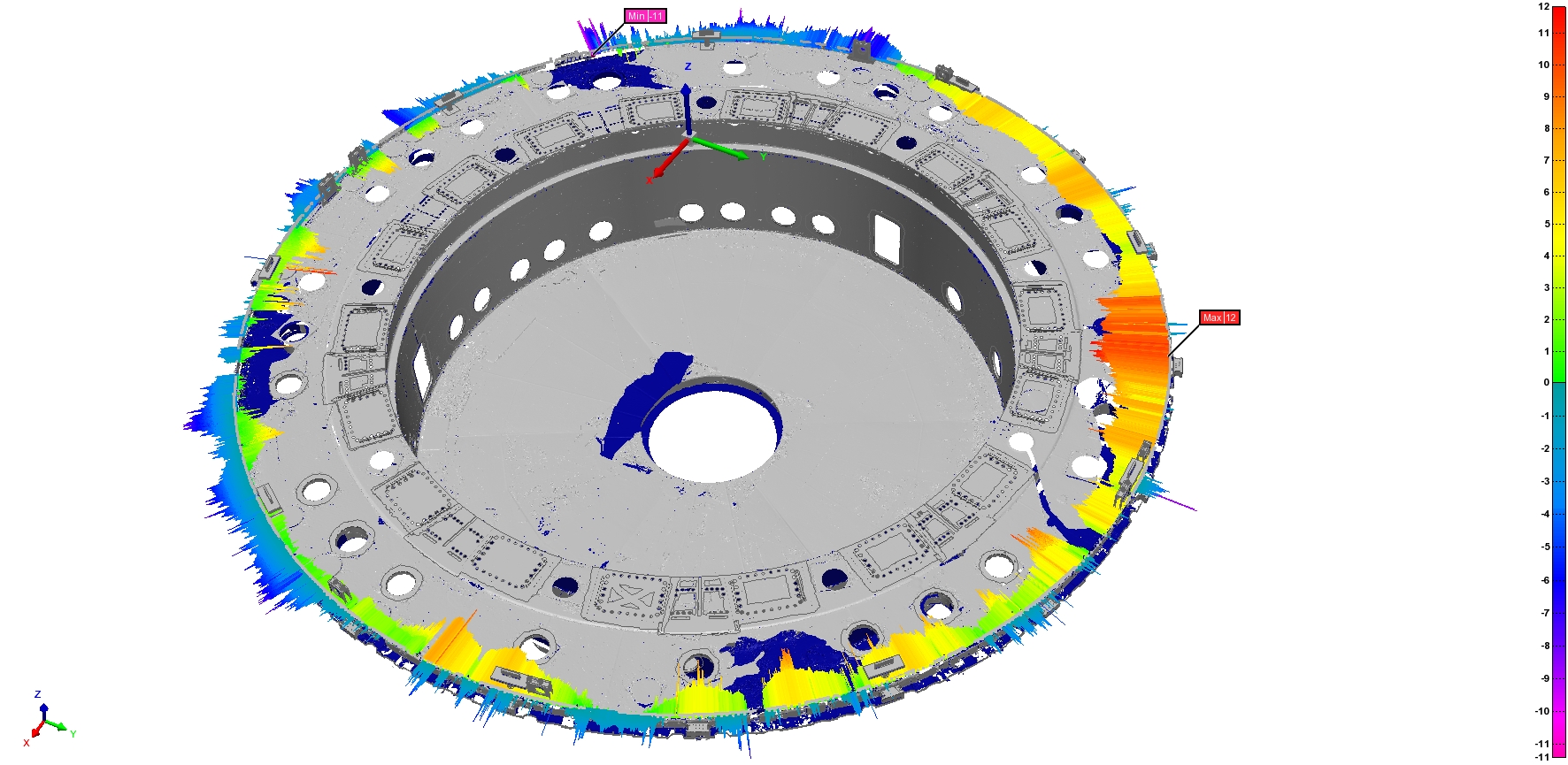 "I had used PolyWorks|Inspector™ on a large project before I came to ITER. I wanted to continue using this software, which allows us to acquire large point clouds directly in the software," says Lionel Poncet, engineer with the ITER metrology group. "Other software on the market is limited when it comes to analysing large numbers of points. We chose PolyWorks|Inspector instead, which meets the need for rapid analysis on data containing a large number of points," adds Hani Gagueche, CAD draftsman responsible for reverse engineering.
The Benefits
Installation of the cryostat base in the tokamak assembly pit was carried out in May 2020: Ten years of work by the ITER team and its partner teams were required to design, build, deliver, assemble, and finally weld the base of this cryostat. At about 6 meters in height and 30 meters in diameter, and with a weight of 1,250 tons to be moved and positioned, the integration of the cryostat base required measurements and 3D reconstructions to adjust the unit.
"In the field of metrology, we use PolyWorks|Inspector directly with our laser scanning equipment. Once the object is scanned, we have a very precise and very high-quality point cloud and polygonal model, thanks to the tools available during the acquisition process," explains Lionel Poncet. "Once the data is received, using the reports in our possession indicating critical assembly areas, we launch analyses that take into account the as-built components and the components located in the surroundings whose dimensions are known, to ensure that they work well together. For the cryostat base, we quickly realised that there were very critical areas, identified using PolyWorks|Inspector, and that a tool was needed to move this component to the nearest millimeter over approximately thirty centimeters. Several tools were developed in-house. PolyWorks|Inspector allowed us to choose the most suitable one," adds Hani Gagueche. Lionel Poncet further clarified that, in this case, PolyWorks made it possible to optimise the installation sequence to less than 12 hours.
Though the installation of the cryostat base was not simple, even more complex challenges await the metrology and reverse-engineering specialists: admittedly, the upcoming components are smaller, but the area is now crowded and the tolerances are even tighter. And the deadlines for performing the operations are also tight!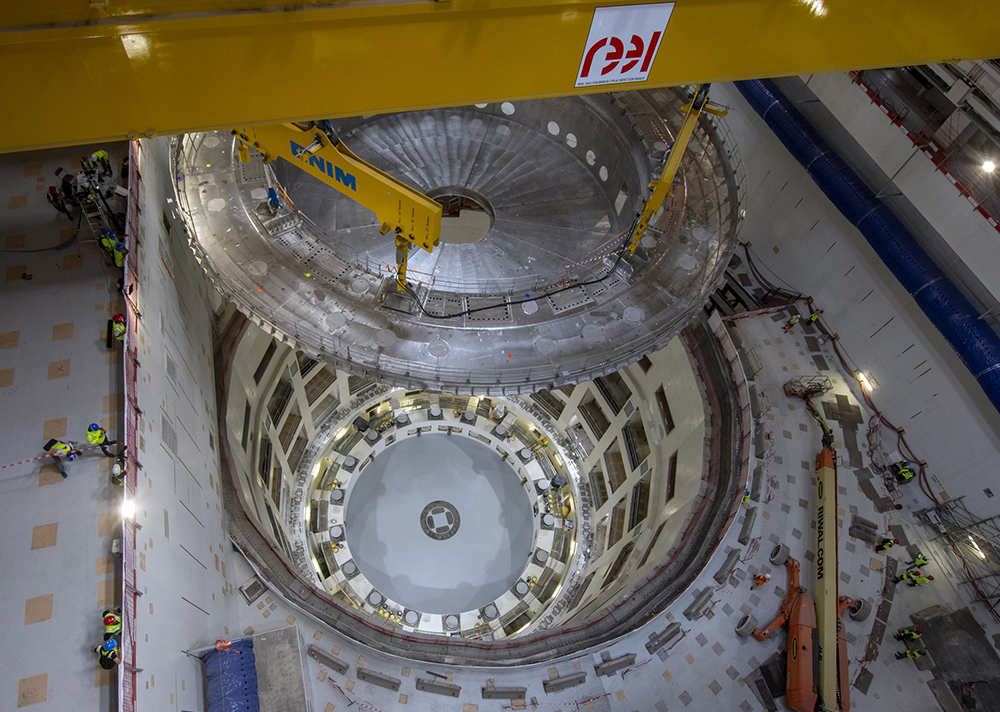 Complex operations
"This summer, installing the first sector of the tokamak's vacuum chamber on its pre-assembly tool was tricky," confirms Hani Gagueche. Magnets, a thermal shield, and a vacuum chamber sector had to be assembled with a clearance of only 20 millimeters at the most critical points. In order to provide for the integration of sensors, we had to reposition these elements relative to each other using PolyWorks' renderings."
"The prestressing rings were also completely scanned", explained Lionel Poncet. "A model was created for integration into the CAD software in anticipation of future assembly packages. Correction coils were also scanned using PolyWorks. On the model obtained, shims must be designed to match future interfaces. We also need to characterise and measure a number of pipes to ensure that there will be no collisions with future components that are due to arrive. What is more, this allows us to know the interface for future welding and cutting operations."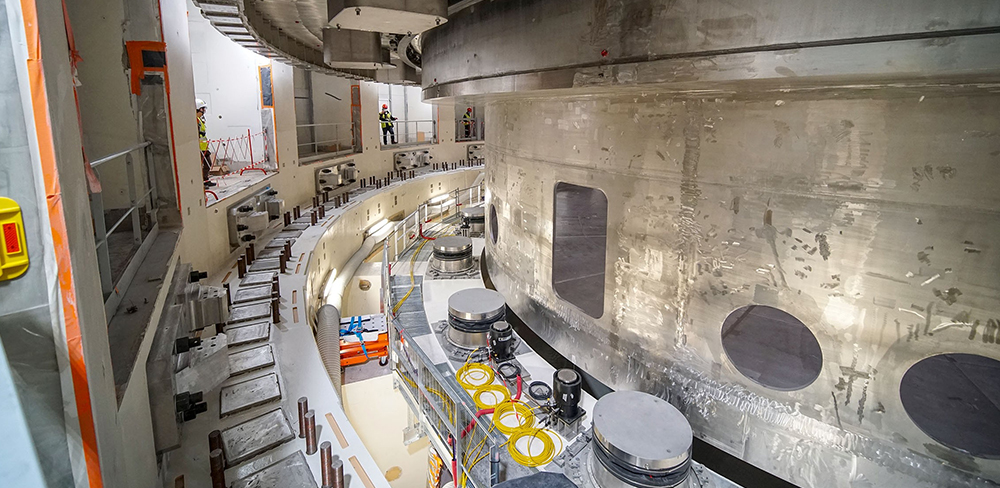 Beyond internal teams, contractors also use PolyWorks when it comes to acquiring point clouds. "PolyWorks|Inspector is a universal module dedicated to metrology that allows multidevice connection. It is available as a standard or a premium package, allowing for the postprocessing of dense point clouds with the possibility of obtaining real-time "quality" indications on data acquisition. Beyond the metrological aspect, the software makes it possible to obtain clearance mappings, for example," argues Thibaut Hehlen, sales manager at PolyWorks Europa, a subsidiary of InnovMetric, the publisher of PolyWorks. "Using software such as PolyWorks is like doing watchmaking with trucks!" notes Hani Gagueche.

To obtain certain 3D reconstructions carried out for critical cases, reverse-engineering specialists use PolyWorks|Modeler™, a modeling and reverse-engineering solution. "This module allows us to reconstruct surfaces from very precise meshings and provide a CAD file accessible to everyone, even when users do not have PolyWorks or powerful computers. CATIA users, of which there are many in the ITER program, can thus have access to the files that we have produced," explains Hani Gagueche.
The new automatic area calculation algorithm in PolyWorks|Modeler will soon be tested by ITER teams. This algorithm could make significant savings in terms of reconstruction time!